Facilities, Entertainment, & Conneaut Lake Benevolent Association Bingo
---
---
Facilities
Dining Room - The Stable Pit and Pub is the perfect place to dine. We are open 365 days a year at 4:00 and at noon on Christmas, Thanksgiving, and Easter
Sunday for buffets. With seating for 400 in smoking, non-smoking, bar, or booths, and delicious food, you will have a superb meal, excellent service, and a memorable dining experience.

The Cowshed Banquet Facility - With seating for 500, fully stocked bar and bar seating for 30, and the largest wooden dance floor in Crawford county, our Cowshed banquet facility is a lovely place to host all your family parties, wedding receptions, reunions, fundraising, and banquet needs! There is no hall rental, we cater, and a bartender is provided at a nominal charge.
The Chow House- It is the perfect room for private,
smaller parties and can comfortably seat 40. This is a beautiful room for showers and business meetings. Rental is $1.00 per person. It is located upstairs, in front of the Cowshed.
The Harness Room - The Harness Room is perfect for smaller events. Seating for 80, private bar, and secluded location, deems it the perfect place to have rehearsal dinners or parties. It is located downstairs in the back of the dining room.
Romantic Luxury Suite - The "Stable Suite" is located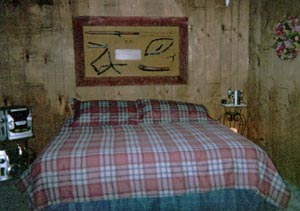 next-door to the Stable Pit & Pub. It is equipped with a king size bed, Jacuzzi tub, mirrored ceiling, fireplace, TV., and champagne beside the bed. Rates start at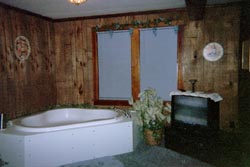 $53.00/weekday and $106.00/weekend. This can be reserved with a credit card and also makes a unique gift for those "hard to buy for" people.
Entertainment
There is no entertainment available now. Any upcoming entertainment will be posted.
Calico Joe-
Joe is a mobile D.J. that can be hired for private functions and wedding receptions. He can be reached at (814) 382-8589.
---
Wedding Reception, Banquet, and Private Party Information

WEDDING RECEPTION INFORMATION/BANQUET INFORMATION

~PERFECT LOCATION
~NO INITIAL HALL FEE
~PRICES INCLUDE TAX AND TIP
~WEDDING RECEPTION BASED ON 4 HOURS.
~EVERY HOUR AFTER WILL HAVE A $50.00 CHARGE.
~BARTENDER PROVIDED $25.00/ 4 HOURS.
~1/2 OF FOOD BILL MUST BE PAID 1 WEEK PRIOR TO EVENT BASED ON CONFIRMED COUNT.

~WE PROUDLY FEATURE~
~EASY ACCESS, NO STEPS.
~LINEN TABLECLOTHS.
~BEAUTIFUL LIGHTING AND GREENERY.
~PROFESSIONAL SOUND SYSTEM AND DANCE FLOOR LIGHTS.
~LARGEST WOODEN DANCE FLOOR IN CRAWFORD COUNTY.
~LARGE FULL SERVICE BAR.
~BARTENDER.
~SPECIAL AREA FOR RECEIVING LINE.
~SKIRTED BUFFET LINES, COOKIE TABLES,& GIFT TABLES.
~BANQUET TABLES ARE 6 FT. LONG AND SEAT 6 PEOPLE/TABLE.
~EARLY SET UP WITH NO EXTRA CHARGE!!.
~PARKING FOR 300 CARS.
~WE CAN CUSTOM DESIGN A MENU FOR YOUR EVENT.
~EXCELLENT AFFORDABLE CUISINE.

~FOOD OPTIONS~
~MEAT SELECTION(2)~
SLICED SIRLOIN ROAST BEEF IN AU JUS
BAKED HAM
BAKED CHICKEN
STUFFED CHICKEN BREAST
~POTATO CHOICE(1)~
SCALLOPED
AU GRATIN
PARSLEY
MASHED WITH GRAVY
~CHOICE OF VEGETABLE(1)~
GREEN BEANS
CORN
MIXED VEGETABLE MEDLEY
~ALSO INCLUDED~
TOSSED SALAD & DRESSING
ROLLS & BUTTER
COFFEE & SOFT DRINKS


---
INCLUSIVE MENU
Makes choosing entrees for your small party easy and hassle free. Our most popular picks are included. Choose four entree's for your guests.
REGULAR CUT PRIME RIB
~IT WILL MELT IN YOUR MOUTH- SERVED WITH AU JUS~

10 OZ. STABLE BOY
~SPECIALTY OF THE HOUSE-JUICY & TENDER -COOKED ON THE OPEN PIT~

COWGIRL RACK OF BBQ BABY BACK RIBS
~SMOTHERED IN SAUCE- COOKED ON THE OPEN PIT~

BAKED ICELANDIC HADDOCK
~FLAVORFUL-BAKED TO PERFECTION WITH LEMON & BUTTER~

DEEP FRIED JUMBO SHRIMP
~BUTTERFLIED-SERVED WITH LEMON & COCKTAIL SAUCE~

CHICKEN PARMESAN
~SKINLESS, DEEP FRIED BREAST ON A BED OF SPAGHETTI, SAUCE, & CHEESE~

LEMON OR TERIYAKI CHICKEN
~SPECIALLY SEASONED BONELESS BREAST MARINATED IN OUR SPECIAL SAUCE AND COOKED ON THE OPEN PIT~

FETTUCINI PRIMAVERA
~CREAMY & CHEESY-LOADED WITH FRESH VEGETABLES~

COST IS $20.00 PER PERSON INCLUDING COFFEE, FOUNTAIN POP, TAX, TIP, AND PERSONALIZED WHITE CAKE WITH RASPBERRY FILLING.

~ALL OF THE ABOVE MEALS ARE SERVED WITH A BAKED POTATO, FRESH GARDEN SALAD, & OUR DELICIOUS GARLIC BREAD COOKED ON THE OPEN PIT~

---
Fundraising
Conneaut Lake Benevolent Association Bingo- The CLBA hosts a dinner bingo in the Cowshed Monday nights beginning at 7:00p.m. and Wednesday morning luncheons beginning at 11:30a.m. The cost is $25.00 for a master packet which includes the guaranteed $1200.00 jackpot & all games except the quickie cover-all. Jug numbers are $7.00 extra. (Master packets are all 18 face.) All proceeds support several community projects. Their largest project has been in conjunction with the Conneaut Lake police department and Zark the bomb dog. The dog has been actively involved with the tri-county schools and search-dog assists. More information on Zark can be obtained by calling (814) 382-4364. Currently the CLBA proceeds are helping fund the new police department for the Conneaut Lake Regional Police.
Other CLBA recipients include the Conneaut Lake School District, C.C. Hazmat and Scuba Team, and the Thurston Classic Hot-Air Balloon event which is held every June. More information can be obtained on the Thurston Classic by calling (814)336-4000.