About Us
---
Home Menu Directions Facilities/Events
---
The Stable Pit and Pub is a family owned and operated restaurant. In 2000 the previous owner had become too ill to successfully run the business. He sold his shares of stock to Wanda Ramaley, who is now 100% stockholder of the Cowshed Inc. She has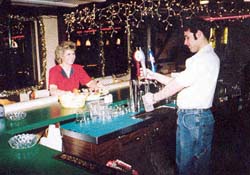 turned the restaurant into the now multi-faceted Stable Pit and Pub Complex. She and son Bobby work as a team to keep the restaurant open 7 days a week, 365 days a year.
Ever since purchasing, Wanda and Bobby have been hard at work to keep the fine reputation that the restaurant has acquired over the years. The favorite and most well-known items are still available today- BBQ ribs, Stable Boy signature steaks, delicious home made bleu cheese dressing, and most importantly- the garlic toast! Come to The Stable Pit and Pub and you will enjoy the best food around served by the most attractive staff in our beautiful community.
Not only do Bobby and Wanda work together, but husband Bob helps with repair work when time allows. Bob and Wanda purchased Runamuck
Campgrounds in 1984 and Bob and Bobby spend most of their time at the campground. The family has been in business together for over 30 years. Runamuck is located on Route 6 and has complete hook ups and an on site R.V. supply store. Runamuck Campgrounds can be reached at (814) 382-8185.